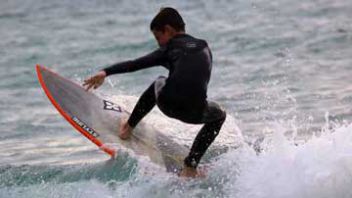 Our surfing lessons are designed for learners of all ages and levels. We follow a programme that extends from beginner to advanced level.
+ info
The school's surfing for the disabled programme is aimed at groups and individuals with special needs who want to practice the sport and enjoy the sea.
+ info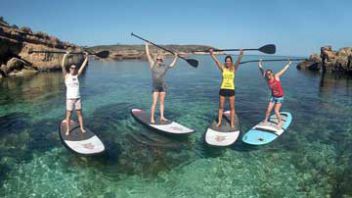 Discover a sport with more and more fans. Learn to keep your balance while enjoying the coastal scenery and the movement of the sea. A relaxing and fun activity, ideal for groups.
+ info
The school is run by a team of professionals who love surfing. Our goal is to share our passion for the board with you.
We've been teaching people like you for over 10 years. Sportspeople with boundless energy and keen to try new experiences. Your level doesn't matter. We offer surf lessons from beginner to advanced level.
The main goal of our school is to provide a good introduction to surfing and the appropriate training, promoting self-reliance in and out of the water, using the right equipment and giving you a fun start in this sport in conditions of safety and quality.
---
BREAK YOUR ROUTINE. TAKE THE PLUNGE!
Cómo siempre encantadores y muy buenos profesionales. Buena técnica, siempre ayudando y animando. Me han enseñado mucho. Os echo de menos, chicos! Ahora toman todas las medidas de seguridad y distanciamiento social por Covid19. Muy recomendable!!!!
An excellent spot with fantastic people! Super recommended! They take care of you as if you were one of their own "surf-family", they help you with everything!
Gracias a Abel y su equipo, mis hijos han descubierto la pasión por el surf. ¡¡¡Sois fantásticos!!!
Le regalamos un curso de Surf a nuestro hijo de 11 años, y el Domingo dia 8 de Enero dio su primera clase, se lo paso genial, esta deseando volver.
Nosotros, por nuestra parte, estamos encantados con los monitores.
Lo recomendamos 100 x 100
Excellent school! I recommend it without hesitation, specially to parents... a big discovery and nearby Barcelona.
Great school! I loved my surfing lesson, great instructors, very warm and patient, and with excellent teaching skills. We'll definitely come again. Thank you all!
Escuela de surf excelente, cuenta con unos profesores que te dan indicaciones en todo momento y te ayudan aprender mas fácilmente este deporte. El trato con ellos fue maravilloso y próximo. Sin duda alguna una experiencia genial que lo mas probable repetiré en mas de una ocasión. Recomendable 100%
Teniamos espectativas 0, y la sorpresa es que el dia fué genial, olas pequeñitas pero super divertidas. Mejor aprendrer con olas pequeña que con olas grandes. En el norte no conseguí levantarme y aqui me inché a cojer olas. Creo que eran la tablas de surf adecuadas. Muy recomendable!!!
Mi experiencia con la Escola Catalana de Surf es muy buena! Grupos reducidos con grandes profesionales que saben transmitir su pasión por el surf. Hace unos meses que estoy disfrutando de sus clases. La localización es ideal. También puedes alquilar material (tablas y neopreno). Muy recomendable!!!
¡¡Gran experiencia!! Aunque parezca imposible aprender hacer surf en Catalunya, no lo es!!! Lugar idoneo para la iniciación y perfeccionamiento. Gran equipo profesional y humano!!! Fue un fin de semana increíble!!! Repetiremos!!!
Great instructors, great school. They've made surf my new big passion. 100% recommended!
Great school, the teachers correct you the positions and movements and the most important thing is that they will encourage you! I'm going...
Increibleeee y 100% recomendable!!! Ideal como primera experiencia con monitores, material y ubicación excelente. He hecho varios clases con Escuela Catalana de surf y siempre lo recomiendo. El trato es excelente, el ambiente muy familiar y los profesionales sensacionales. Sin duda es una genial forma de hacer deporte y pasar un buen día !!! Recomendable al 100%!!!!
Awesome experience! Abel, the school founder, is a gem. He's got a lot of patience and a great sense of humour! We'll definitely repeat soon!
Grandes profesores, gran escuela. Un lugar q han hecho que el surf sea mi pasión. Recomendable 100%!
!Clases excelentes y energía positiva ! Local amplio, bien situado y agradable. Disponen de buen material y lo más relevante; profesores que te ayudan a mejorar y te transmiten seguridad en el agua.