Surf lessons for children in Barcelona
We organise surf lessons, paddleboard lessons and surf camps for children over six years of age, always taking into account the sea conditions necessary for your children to have fun in safety.
At our school teaching children and young people is an absolute priority. All our instructors have qualifications in the field of education and extensive experience working with minors. The groups consist of a maximum of 6 pupils per instructor.
Our surfing lessons and surf camps in Barcelona and Castelldefels are specially designed for the youngest in the family. We teach at all levels, from beginner to advanced, with active explanations and warm-ups in the form of games so they can enjoy surfing from start to finish in a 100% safe environment.
Enrol them at the best surf school in Catalonia. They'll love it!
We stay open in winter.
Surf programme for children
We have developed a special surfing sports programme for children at the Escola Catalana de Surf. It includes SUP and skateboarding to make for a fun experience in unbeatable surroundings, playing, sharing and enjoying the natural environment.
Lessons taught by qualified instructors, accredited by the Spanish Surf Federation and trained in first aid
Groups of a maximum of 6 pupils per instructor
Two-hour lessons, one-week courses and surf camps
All necessary equipment included
Beaches ideal for all levels
Liability insurance
First-aid kit on the shoreline
Facilities with swimming pool, changing rooms, restaurant with terrace
Direct access to the beach and channel marked with buoys.
We have 270 days of good waves per year. We stay open in winter.
Benefits of surfing for children
Surfing as a sport has multiple physical and psychological benefits. It helps children to integrate socially and acquire fundamental values, as well as contributing to the proper development of bones and muscles. These benefits include the following:
Integration of children in society. Although surfing is not a team sport like football or basketball, it is usually practiced in the company of other surfers.
It teaches them to follow rules, such as not interfering with other surfers and knowing what waves can be surfed.
It helps them to open up and overcome shyness because it consists of activities carried out in groups of children of similar ages.
Through sport children learn to recognise the value and rewards of continuous effort and medium and long-term training.
It puts a brake on hyperactivity or possible aggressive tendencies because it channels excess energy.
It favours relaxation and releases physical and nervous tension that often accumulates during the week.
It helps children to recognize, accept and respect the fact that there are people who know more than them, in this case the surf instructors.
It improves spatial orientation and coordinated movement.
It improves motor skills in general.
It combats anxiety and depression and raises self-esteem in those children who may have problems of integration because of their physical appearance
It makes them feel agile and able to control their bodies.
It favours the growth of bones and muscles.
Taking the right approach, it can help correct minor physical or postural defects (back, feet).
It encourages the development and regulation of habits. Surfing is well known for its ability to hook beginners.
It promotes the enjoyment of activity and exercise.
It stimulates the development of good health and hygiene habits.
It teaches children to assume certain responsibilities, for example cooperating in collective tasks and taking care of equipment.
Ideal exercise at each stage of growth
The best exercise during the growth stage is basically aerobic. Specifically, it should increase stamina, improve muscle strength and flexibility, and avoid musculoskeletal strain that may cause problems in the child's development.
Up to 8 years old
Games and exercise that involve psychomotor activity, coordination and balance, and exercise designed to develop a sense of rhythm and space. Running, jumping, climbing, swimming.
From 8 to 12 years old
Exercise that contributes to the development of the key physical qualities, i.e. stamina, strength and flexibility. This period is especially good for learning the technical aspects of surfing or any other sport.
From 12 to 14 years old
Further training in the techniques involved in each movement and introduction to some competitive aspects (games) that sustain motivation.
Over 14 years old
The age to begin more specialized training, combining it with general workouts and training with weights.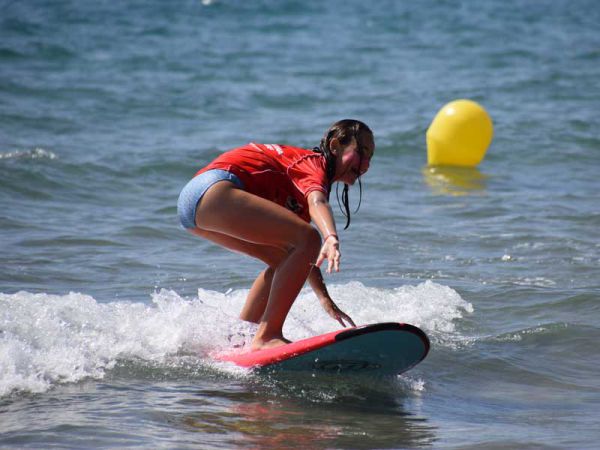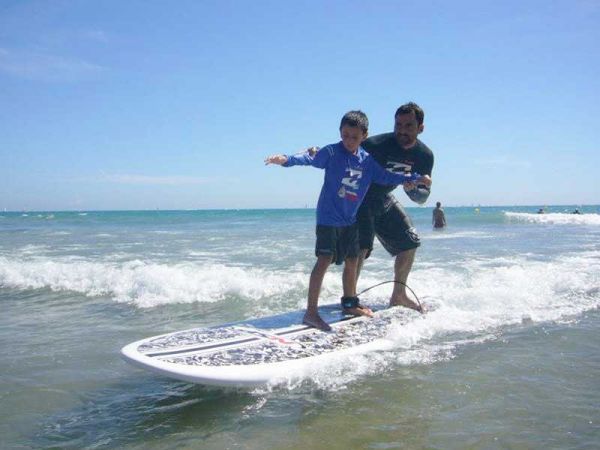 Our lessons consist of a brief theoretical introduction where the surf instructor explains the basics of surfing, the essential surfing safety rules, and the technique of standing up on the board.
If you already have some surfing experience, the instructor will ask you some questions to get an idea of your level of knowledge and decide whether there are any aspects you need to review.
The surf instructor will answer any questions, put you through a brief warm-up session, and finally start the practical session in the water.
These are some of the things you will learn about during a first surf lesson, also depending on factors such as each student's level and the weather conditions on the day:
Safety and surf etiquette in and out of the water
Entering the water correctly
Paddling and position on top of the surfboard
Getting through a wave
Sitting on the board and the standby position
Steering the board
Catching the wave
Taking off and riding the wave
Moving on the face of the wave
Bailing out/kicking out
Finishing the wave
What to do if you fall off
Returning to the beach
Surfing is a healthy sport and, apart from the training itself, it strengthens values such as effort, constancy and personal achievement. Everything needed to improve people's quality of life in the natural environment of the sea.