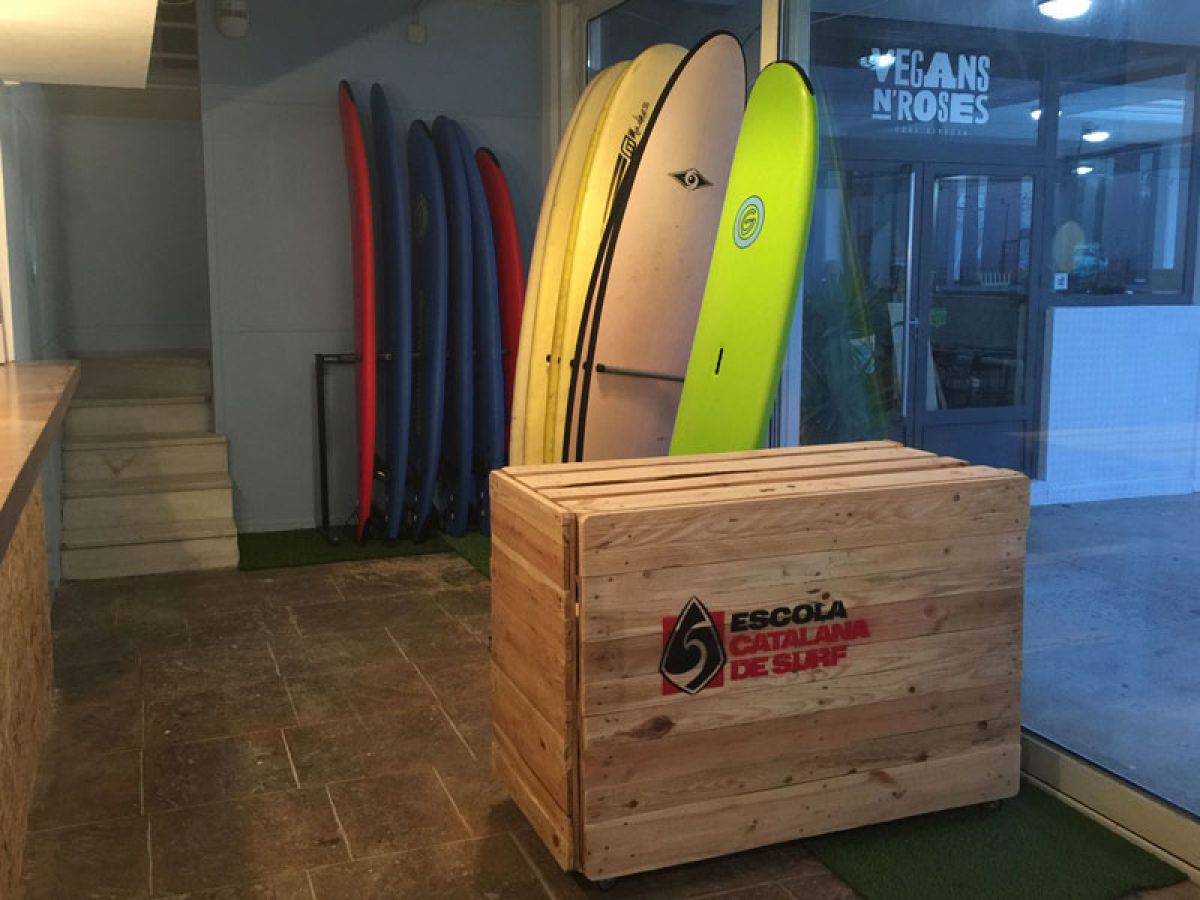 All our courses and surfing lessons include the necessary surfing and paddleboard equipment. If you want to surf on your own and don't have the gear, we can supply everything you need: surfboards and paddleboards of various types, neoprene suits of all sizes, paddles and other accessories.
You can rent surfing equipment by the hour. Although we have a considerable stock we recommend you book what you need in advance to avoid disappointment.
Rental charges
Surfboard

Paddleboard

Big SUP
(up to 8-10 people)

Wetsuits

Wetsuit + board

1 hour
€15
€15
€85
€10
€25
2 hours
€25
€25
€135
€15
€35
3 hours
€35
€35
-
€20
€45
1 day
-
€35
€80
Carver board rental: 5€ / hour
Storage and facilities service (surf board and wetsuit + showers and changing rooms): 36€ / month
Important information
Due to our limited surf rental inventory and its priority use for surfing lessons WE DO NOT ACCEPT RENTAL RESERVATIONS by phone or email. Surfing equipment is rented on a first come, first served basis. However, the renting turnover is quite high so you will typically have to to wait no more than 20-30 minutes.
Requirements for renting surfing and paddleboard equipment
To rent surf and paddleboard equipment you must have mastered the techniques and have the following basic knowledge:
Know the priority and safety rules in the water
Have a minimal understanding of surfing
Know how to brake
Know how to change direction
For your own and other people's safety, if you do not already have this knowledge we recommend you enrol on our surfing course for beginners.
You must show your ID card or similar identifying document and leave a deposit.
The person who rents the equipment is responsible for returning it in undamaged condition. Therefore, the customer is liable for any possible repairs.
The late return of rented equipment will be charged separately .
No surfing or paddleboard equipment will be rented out if sea conditions are not suitable.
Book your surfboard now!
To rent surf equipment please visit us in Castelldefels during our opening hours and we'll be glad to help. Please bear in mind that we do not take reservations.